Happy Holidays!
Merry Christmas!
Winter Wishes!
Snowman Smiles!
Welcome to our last challenge for this year. 2011 FLEW by! I can't believe it! Because we feel everyone has a lot going on this time of year, we want to make this challenge EASY!
For Challenge #63 - Anything Goes & Include A Sentiment!
Our sponsor this challenge is none other than one of our own Design Team Members...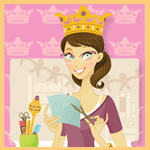 The Prize is a MYSTERY... but knowing The Queen, it will be something Royally Enticing!
Have a safe Holiday, everyone. See you back on January 1st to announce the winner. And then on Monday, January 2nd, a whole new year of Paper Playtime Challenges BEGIN!
Check out these projects our Design Team has provided to inspire you to play along:
Our Special Guest Designer this week is DAWN of ALWAYS CRAFTING! Thank you, Dawn, for joining us this week! I just love the card you made!